reviews

Robert Stivers | Mystery of Darkness

braveART is pleased to represent American fine-art photographer, Robert Stivers. Beginning this month, braveART will feature Stivers' one-of-a-kind, silver gelatin prints. In his darkroom, Stivers works by hand with these individual, unique and un-editioned prints manipulating light and chemistry.

Born,†November 17, 1953, Stivers is best known for his captivating imagery and darkroom technique. The New Yorker describes his work as ghostly black and white images whose theatricality smartly compliments their mystery. Robert has exhibited extensively, including solo shows in Los Angeles, New York City, Paris, Rome and Beijing. His work has been the subject of five monograms beginning with: Robert Stivers, Photography, 1997, Arena Editions. His most recent volume, The Art of Ruin, was published by Twin Palms Publishers in 2015. Robertís work is in the collections of the Metropolitan Museum of Art, the Getty Museum, Harvardís Fogg Museum, the Los Angeles County Museum of Art, the Bibliotheque Nationale, and the Victoria and Albert Museum, to name a few. Mr Stivers lives and works out of both Santa Fe, NM and Los Angeles, CA.

"[Helene] Greenberg-Wyman, (director at Messineo Art Projects/Wyman Contemporary, NY, NY) places Stivers among such well established and highly regarded photographers who have adopted a soft-focus approach as Adam Fuss and Bill Jacobson. 'Robert comes from the school of pictorials, as opposed to hyper realist, but, like Jacobson, he is more extreme and pushes the boundaries of style', Greenber-Wyman explains. Stivers agrees that his work is not so neatly defined - pictorials with a twist. 'Unlike pictorials, my work is much less idealized', he says. 'It's less about romanticizing and more about mystifying'.

The mystification process of every Stivers' [work] is a timely and complicated one. Robert is like an alchemist, Greenberg-Wyman explains. He uses lens based photography and handles materials flipping things back and forth - sometimes overexposing,†sometimes underexposing depending on what's going on with him. Then he might re-shoot a print he's already made and manipulate it further in the darkroom by enriching the tone of the gelatin silver print with more selenium or another kind of polytonal. That's how he performs, like in a lab.

Stivers'†magic does not occur in a camera but in his hands in the darkroom - his images so manipulated that each one is a unique print. 'The cameras I use don't play an important part in my work",†he says. "I've only ever had an old Hasselblad 500 CM and lighting equipment that I bought used when I first began. I'm not very savvy with computers. The manipulation and transformation of the negative or transparency to a print happens in the darkroom. For today I really like getting my hands dirty, the craftsmanship, and the hands-on feet of making something. Although, like everything I do, I'm sure that will shift'."†(Rebecca Klein, Apogee Photo Magazine)

View Robert Stivers with braveART on ARTSY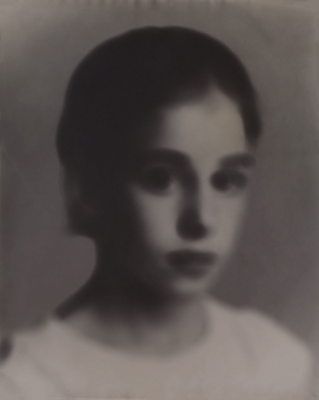 Portrait of Victoria
Robert Stivers
2016
Gelatin Silver Print
20 x in inches


reviews
Robert Stivers | Mystery of Darkness

Jill Nathanson: At the Galleries, 2013

Jill Nathanson at Messineo Art Projects/Wyman Contemporary, 2012

Art Around the Edges, 2012

Jason Florio, The Long Fight for Kawtoolie, 2012

Jason Florio, Fighting Spirit, 2012

Antonio Carreno, Messineo Art Projects / Wyman Contemporary, 2011

Jill Nathanson at Messineo Art Projects and Wyman Contemporary

Jill Nathansonís Quiet Vision, 2010

Paul Vickery - Past Imperfect Future Tense, 2010

Jason Florio, Black and White Magazine, 2009

Gema Alava: Tell Me the Truth, 2008

An Alchemist's Reverie, Picture Magazine, Fall 2002

Robert Stivers, Black & White Magazine, June 2001

Sylvia Schuster, The New York Art World, January 2001

more...